fragrance - deseo [for men]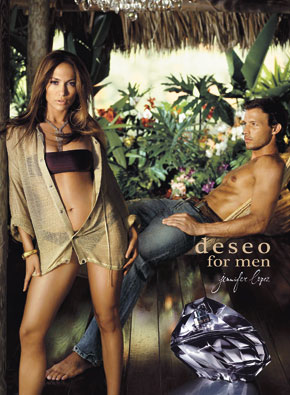 Jennifer Lopez is adding a masculine scent to her portfolio this September of 2008, for the very first time. Following this spring-and-summer Deseo for women, the new scent, Deseo for Men, represents an effort to broaden the appeal of the brand and challenge its creativity......

Deseo for Men was composed by perfumers Jim Krivda and Ellen Molner in collaboration with Lopez, who all already worked together on the previous Deseo.

It has "top notes of lemon, yuzu, red berries and cedar leaf; a heart of tobacco leaves, guaicwood and orris, and a drydown of sandalwood, cedarwood, patchouli, amber and vanilla.

The collection comprises eaux de toilette in two sizes, 1.7 oz. for $45 and 3.4 oz. for $55; a 3.4-oz. aftershave balm, $40, and a 2.4-oz. deodorant, $16. The bottle is a carbon gray version of the Deseo for Women bottle. "It's intended to represent a crystallized piece of carbon — referencing how diamonds are created," said Bond."
Contrary to the Beckhams who like to pose together as a couple on their perfume ads, Jennifer Lopez has chosen not to advertise the cologne with her husband in keeping with her desire to put some distance between her family and the media.

Etiketler: Güzelllik / Beauty